Products
NX VR for Heavy Equipment | Individual design review for the JCB Fastrac 8250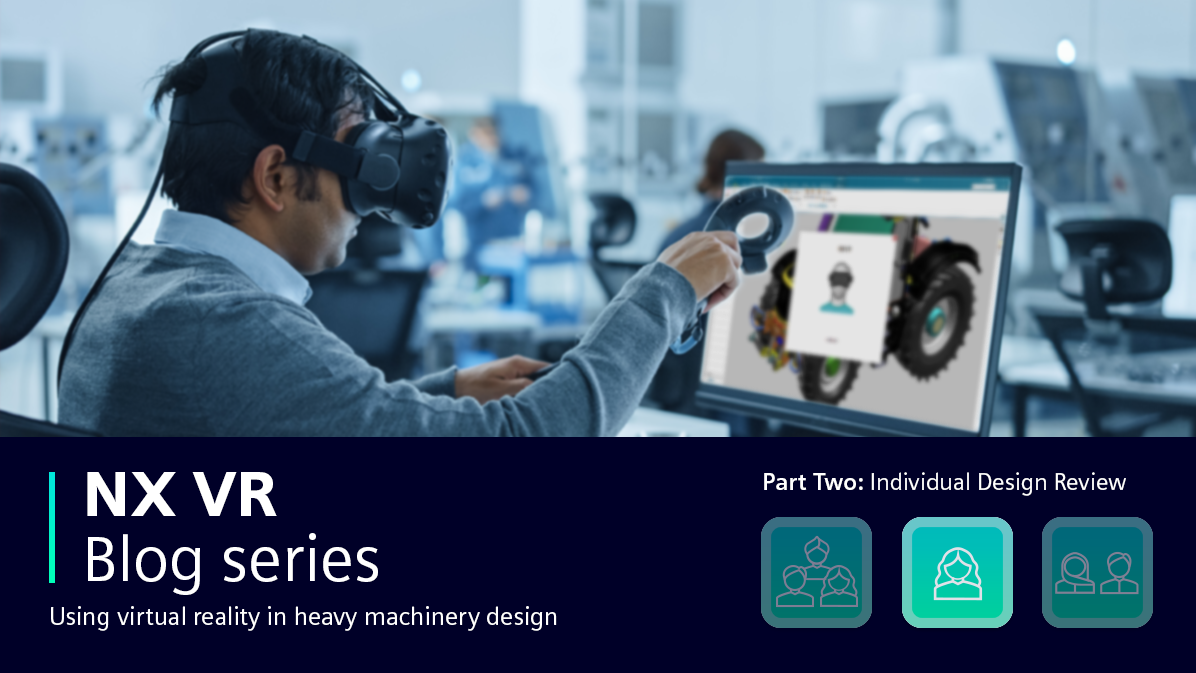 ---
The importance of Virtual Reality in an individual design review
Welcome back to the latest instalment of the NX VR Design Review Blog Series for Heavy Equipment. In the first entry, we explored how Virtual Reality enables design teams to collaborate on a global scale. Be sure to check it out if you haven't already had the chance to. Part two takes a step back; we'll be looking at the work visualization engineers conduct to prep the data ready for an immersive VR experience.
---
The challenges of upfront data prep for an individual design review
Virtual Reality is a 21st century disruptive technology. We're still at the adoption phase of the product; usage and product penetration into the market will increase over the coming years. Usability and available features continue to improve, but this heaps more pressure on the visualization expert prepping the data upfront.
There's a minor disconnect between receiving the raw data and prepping it for a virtual design review. Designers have to go into a 3rd party application to complete their design review. As a result, designers may need to save, export and translate the data to make it compatible for the 3rd part app before they can even think about making any design changes. Add in complexities of optimizing the JCB model, designers can take around 100 hours to fully prep it for VR. This is more time spent on arduous data prep tasks and less time to review the model within Virtual Reality. It's essential for designers to be able to load a model and be able to make design changes instantaneously; it ensures design pipelines are efficient, enabling designers to focus on the design decisions that matter the most.
---
One click to VR
Virtual Reality continues to improve the day-to-day workflow for individual designers across a range of industries. Designers continuously tweak their models and create a range of options. Previously, designers had used their desktops to make design tweaks. Of course, there's great freedom and flexibility in terms of the different features available when iterating; the problem is the designers can't fully appreciate the JCB Fastrac within a 3D environment when working on a monitor. Being able to jump into NX VR with one click enables designers to make changes instantaneously, ready for design reviews,
It's not only the capabilities of VR that continue to improve the data prep workflow; the accessibility of high-quality Virtual Reality hardware is also another element design teams can consider. There's now several virtual reality hardware on the market, all with unique features to create a customizable design review experience. Design worfklows can incorporate hardware with minimal effort. The result? Barriers of entry are relatively low, meaning teams with little experience in Virtual Reality can incorporate the tech into their workflow.
---
Work at Human Scale
In any industry, an important element to consider is the true scale of the model. It's a key advantage immersive technology provides over a monitor; completing modelling tasks on a monitor is an important element in the design pipeline. The issue is that it doesn't give you a true sense of a model's size, which is especially the case for a model like the JCB Fastrac 8250.
Being able to see the physical twin of a model in an immersive VR experience creates a wow factor that was previously missing. It's an approach that will place any designer in an immersive environment, encouraging them to identify key design changes that may otherwise may have been missed. This is especially important for the designer conducting an individual design review; major issues can be captured before conducting a design review with the wider design team. As a result, reviews are more focused, enabling teams to focus on optimizing their model of choice.
---
Do more, at the same time
Everything we see with Virtual Reality and other emerging technologies continues to revolutionize the design workflow from start to finish. A lot of processes had to be done manually 10 years ago. Everything from saving iterations, translating and then exporting the model were all manual tasks. Automated design pipelines enable designers to work on a range of designs or combine efforts and focus on a model together. It's an approach that ensures several iterations can be created, ready for immersive design reviews later in the workflow. For the JCB, the focus is to ensure the model is created accurately, in a fraction of the time.
The need for physical prototyping reduces, leading to further efficiencies gained. Before Virtual Reality solutions (and even cavewalls), there was an over-reliance on creating physical prototypes to refine models. Physical prototypes are still an important tool in a design teams arsenal, but only at the right time. One physical prototype can cost $100,000+, which begins to add up if a design team conducts multiple design reviews! Modern day design workflows allows teams to only create physical prototypes when needed. As a result, designers have more time to refine the models digital twin, ready for design review.
---
Individual Design Review; Summary
The automation of the design workflow continues to push the capabilities of global design teams to the next level. Designers spend more time on design optimization, and less time preparing the data. As a result, costs are reducing and companies are getting to market in a fraction of the time.
In the next, we'll take a look at the role Virtual Reality plays within the typical executive design review.
---
Continue your journey with NX
---
This article first appeared on the Siemens Digital Industries Software blog at https://blogs.sw.siemens.com/nx-design/nx-vr-for-heavy-equipment-individual-design-review-for-the-jcb-fastrac-8250/