Corporate
#InternationalWomensDay: Why Monica Lingard chose a career in STEM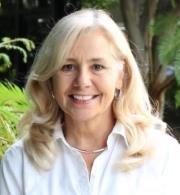 Google never ceases to inspire the world with their holiday animated doodles. Today for International Women's Day, they ask women to share their big dream under the auspice of #OneDayIWill.
When I started my professional career, there was a two-page dress memo for women that required skirted suits. I knew one day our dress and opportunities to make an impact would dramatically change.
Meet Monica Lingard – a woman who not only makes a dramatic impact on our NX product in her daily work but inspires female coworkers as well as a future generation of female technologists.
When did you know you wanted a career in STEM?
"I think I always knew that I wanted a career in STEM. I loved math in school and I excelled at it. I knew I wouldn't be satisfied with only the business side of a career. I've worked continuously since I was 15 ½ years old and understood early on the difference between providing services and pursuing an opportunity to innovate, create and maximize my contributions to society."
Tell us about your education.
"I pursued a double major in economics and environmental planning at University of California, Santa Cruz (UCSC), at a time when few schools offered computer science degrees. It was too new. The school's environment studies department was renown at the time. I landed a job out of college as a research assistant for Dr. Evernden at the U.S. Geological Survey (USGS) where I assisted the development of earthquake research related computer programs. I found I loved computer programming. After a few years of earthquake research, I moved on to work at Lockheed Missiles and Space Company as a graphics developer.When my husband's company moved us to Southern California, I found my first position as a Computer-Aided Design (CAD) developer, where I supported and augmented CADAM at Northrop Aircraft for three years. I loved CAD. There was nothing as rewarding as coding the building blocks for product development, especially products like Northrop aircraft!I naturally moved from CADAM support at Northrop to becoming a developer at CADAM, Inc., where I was employed for 10 years. I then joined the EDS Unigraphics team (now Siemens PLM). I began as a developer, then supervisor, manager and now, 22 years later, am a senior development manager. Our customers use our software in aerospace, automotive, shipbuilding, consumer and more applications across the globe."
How has computer science changed over your career?
At USGS, I programmed using a terminal that had the capability to print out my coded lines one at a time. At LMSC and Northrop, programs were carefully coded first time on paper and then carefully typed onto cards, one card for each program's line. I remember riding a Northrop bus with the plotting program I wrote in a box of cards on my lap over to the main computer building, hoping the bus driver made the turn carefully! Today we all take for granted the pre-processors and compilers that find program issues readily, however, there is no replacing a carefully thought out program design. The methods and metrics that support computer science have significantly evolved. I found I needed to thoroughly study the science 20 years into my career which led me to earn my master's in Computer Science at California State University, Long Beach (with tuition support from our company)."
What's a day in the life like for you?
As the NX Knowledge and Industry Applications Deputy, I manage day-to-day operations of a large number of CAD developers to ensure strategic priorities are followed. I review quality metrics and approve prioritized code improvements that pass scrutiny. I analyze the results of our performance tests and report and track any significant increases through resolution. I monitor the development status of 40-50 projects each year though their requirements, design, testing, integration, testing and beta testing phases until each project is marked production, rescheduled for rework or dropped. The most important work I perform is to make sure that our department's efforts meet and exceed our customers' requirements.
In addition to your work on the NX team, tell us about the women's employee resource group and STEM outreach support you do at Siemens.
I'm very proud to support our local STEM team, which has reached more than 2,000 local elementary students. We visit schools and inspire students to consider STEM careers through Lego kits that enable students to build and experience computer-driven robotics.
I have been dedicated to our Women's Information Network (WIN) for some time and recently became chair. We support the passions of our working women through volunteer activities that benefit their communities. We celebrate women in the workforce through activities like International Women's Day, Susan G. Komen Race for the cure, Women Wear Red (Heart Health) Day. We work to support working mothers with lactation facilities.
What advice would you give students interested in a career in technology?
I would tell students to study their math and science very seriously as their mastery will be their career foundation. Also, they should learn to type properly—don't languish hunting and pecking. It will slow them down when they need to be efficient. They must learn how to program computers! Lastly, and most importantly, don't ever, ever think that you are going to be done learning. In technology, the only way to stay current is to seek educational opportunities whether it is reading a book (highly recommended!), pursuing a relevant certificate or heading back into the classroom, regardless of your age. To pursue a successful career in technology is to pursue life-long learning.
Learn more about Siemens PLM employees who chose a career in STEM. Also be sure to check out the SeeWomen project Siemens launched today.
Fellow females, please share your dream with the world #OneDayIWill.
This article first appeared on the Siemens Digital Industries Software blog at https://blogs.sw.siemens.com/news/internationalwomensday-why-monica-lingard-chose-a-career-in-stem/