What's new in MindSphere – October 2020
Connecting the things that run the world
MindSphere releases aim to deliver advanced industrial IoT capabilities that bring the physical and digital worlds closer together.
This update includes many of the newest and most exciting capabilities from the most recent MindSphere releases:
Closed-Loop applications (CLx): Improved simulation parameters, scheduling and execution
Bi-directional MindConnect agent communication
Semantic mappings for Semantic Data Interconnect (SDI)
MindSphere Start for Free – get free access to a MindSphere tenant
---
Closed-loop applications (CLx): Improved simulation parameters, scheduling and execution
The Closed-Loop suite of applications are MindSphere applications that make it possible for you to create a complete, closed-loop digital twin with the power of industrial IoT. The closed loop is created by enabling a bi-directional flow between MindSphere and other enterprise systems and tools your organization uses. With this connection, you can feed product performance data back into simulations to improve manufacturing operations and product quality.
The most recent updates to this suite of products on MindSphere improve simulation operations and capabilities along with some other user experience enhancements. These updates are:
Schedule and queue of simulations
Run scheduled simulations with advanced scheduling and queuing simulations. This allows your organization to ensure its computing infrastructure is being optimally used. Avoid over-burdening the infrastructure or slowing down simulations.
Manage design parameters and thresholds
Run multiple configurations of simulation models by changing its parameters. Ensure that the model operates within the design limits by applying thresholds to the simulation data.
System Simulation application dashboards and resulting visualization
By using the MindSphere Integrated Data Lake to store simulation results, you can now test multiple scenarios without the fear of overriding the data. The inbuilt visualization of simulation results in Closed-Loop System Simulation, which allows you to view results in the context of the simulation model.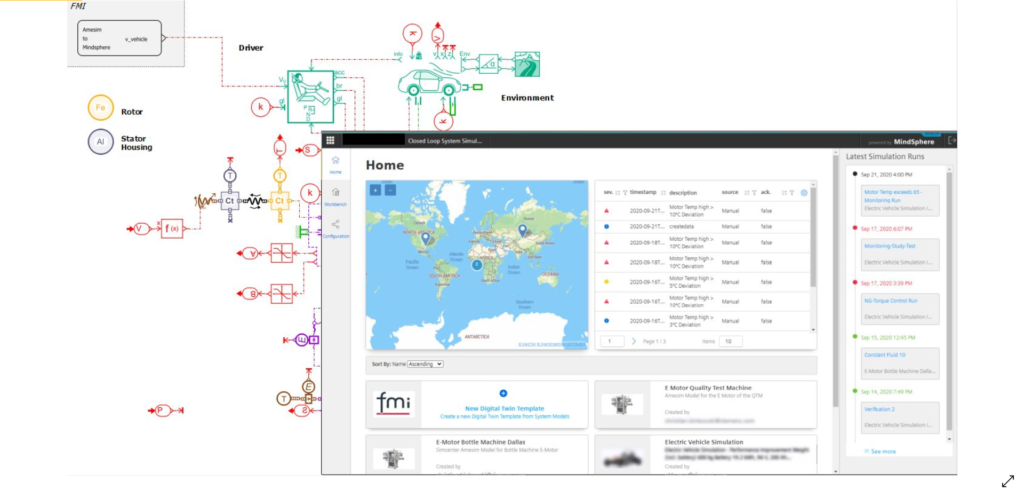 In addition, visualization also enables design engineers to compare the results of two data sets, thereby assisting in diagnosing the system model behavior.
Model-Based Template Definition
Provide a tight coupling between the digital twin and the system model it represents. The application leverages FMI 2.0 library APIs to read the system model information.
Improved UI/UX
MindSphere has made major improvements to the user experience of the CLx applications. Mainly, the Closed-Loop Foundation is decentralized to allow for better operation.  
Bi-Directional MindConnect agent communication
Enable bi-directional communication between MindSphere and selected MindConnect devices. This allows you to send messages and commands to the industrial device and trigger actions (e.g. start pump).
Bi-directional communication to S7 PLCs
Read out a change protocol. For instance, "what was set, when or by whom?"
Set data by UI and API
Semantic mappings for Semantic Data Interconnect (SDI)
Semantic Data Interconnect (SDI) is a MindSphere application that empowers customers to easily link data and obtain cross-system and cross-domain data insights with comprehensive analytics.
This release brings new features to SDI to unlock the contextual relationships across data sources.  
SDI Semantic Service
SDI Semantic Service allows for configuration into semantic mappings for customized data contextualization. As a result, configure key mapping types of semantic models, both default and custom.
Firstly, define custom mappings for semantic models as applicable for inter-relationships of underlying data sets. This will help to target a wide range of data contextualization use-cases. Additionally, you can define custom key mappings at every class hierarchy level. This setting will override configuration provided at the parent (namespace) level.
Finally, establish the leading source of data, or primary schema, and the underlying key mappings that will be used during query results. This means that the semantic query results are based on underlying data from disparate sources which are mapped using semantic models and mapping configuration.
MindSphere Start for Free – get free access to a MindSphere tenant
MindSphere Start for Free is a free version of MindSphere. The experience is designed to help you better understand how MindSphere creates value for businesses, as well as how quick it is to get connected and get started.
With this free tenant, anyone can test-drive end user, developer and operator tools. With these tools, anyone can:
Use the Asset Manager to connect assets.
Use Fleet Manager to monitor the status of connected devices.
Set up root cause analysis and data mashups using historical data with Visual Analyzer.
Process data and define KPIs using intuitive drag & drop analytic workflows with Visual Flow Creator.
Explore data visually, combining multiple views to get richer insight by creating customized dashboards with Dashboard Viewer.
Bring your ideas to life and develop a low–code app using Mendix and auto-register it in MindSphere.
Connect MindSphere IoT APIs with self-hosted apps using the Developer Cockpit.
---
For complete details and availability on the new features of MindSphere and its supporting releases, please refer to the MindSphere Release Notes, MindSphere Region Table and new features presentations offered for all.
Want to try MindSphere for free? Get started today with MindSphere Start for Free.
And, as always, hop on over to the MindSphere community forum and website for all things MindSphere.
MindSphere is a leading industrial IoT as a service solution that uses advanced analytics and AI to power IoT solutions from the edge to the cloud. Built on the Mendix application platform, it empowers users to quickly build personalized IoT applications.
This article first appeared on the Siemens Digital Industries Software blog at https://blogs.sw.siemens.com/mindsphere/whats-new-in-mindsphere-october-2020/