MindSphere @ IoT Solutions World Congress in Barcelona 2018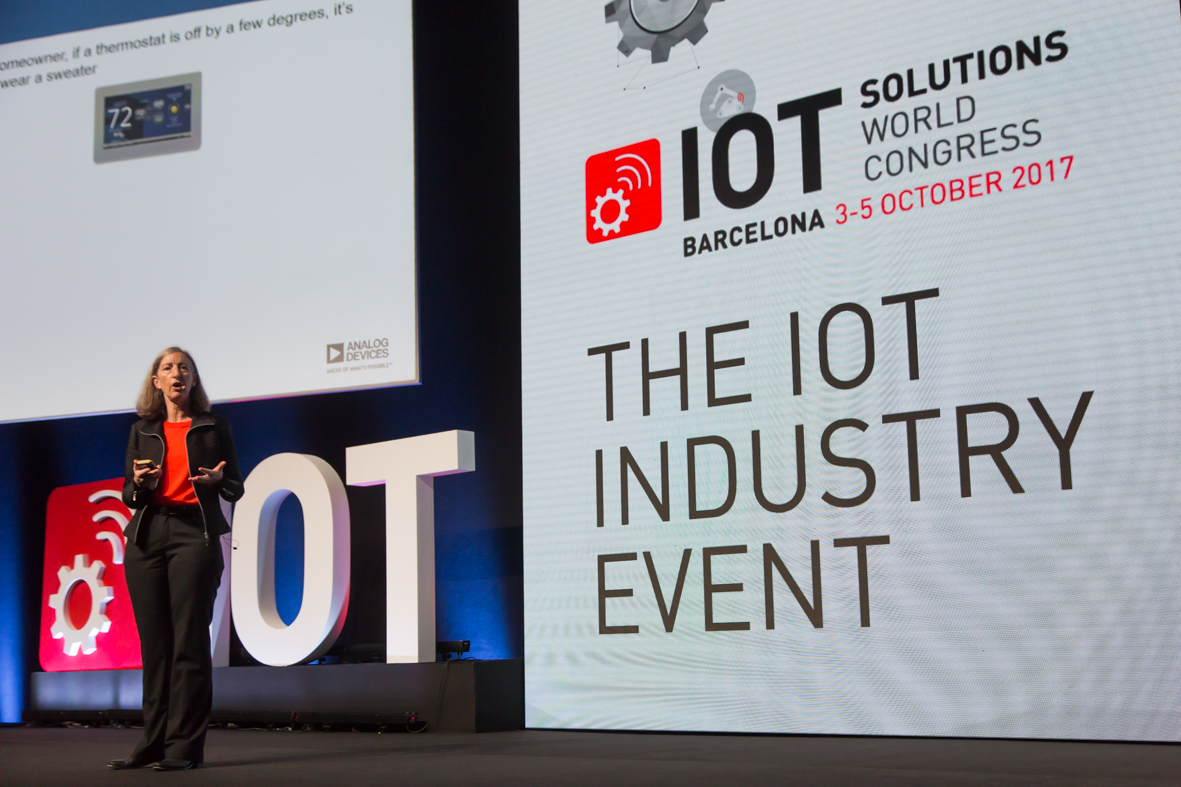 Are you planning to visit IoT Solutions World Congress 2018 in Barcelona? 
MindSphere is present at IoT Solutions World Congress in Barcelona from 16-18 October 2018 with our ecosystem partners: Deloitte, Orange Business Services and Wipro Digital. Here some highlights and reasons to be there:
Siemens and Deloitte 
Deloitte Panel: IoT and 5G Growing Together with New Opportunities for Industries
Helena Lisachuk, Director and IoT Global Lead at Deloitte Digital will be moderating a keynote panel on October 16 on the topic of 5G and the impact on Industrial IoT. Andreas Kornbichler, Head of Research – IoT and Wireless Networks at Siemens will join other industry experts on the panel.
5G is a set of protocols and new technologies that link different wireless communications networks together into a network of networks capable of greater speed, bandwidth, and lower latency than ever before. Those new capabilities, in turn, allow IoT to take on new challenges that were previously too difficult or too costly. How do industries view these opportunities and which steps are they taking to take advantage of them? This panel of experts will unveil the mystery of 5G and share views and tangible examples of direction taken by leading industrial players.
When: October, 16 2018,18:15 – 19:00
Details and Contact: Mike Jurcy, Strategic Partner Manager – MindSphere: mike.jurcy@siemens.com.
Deloitte Panel: Enabling Industry 4.0 – Deploying the Digital Thread in Pursuit of Value and Performance
Tim Hanley, Global Leader, Industrial Products & Construction at Deloitte Consulting, will be moderating the kickoff panel for the Manufacturing track on the topic of Digital Thread / Digital Twin. Alastair Orchard, VP Digital Enterprise at Siemens PLM Software, will join other industry experts on the panel.
A digital thread is a seamless strand of data and computing, stretching across the product lifecycle. It is often talked about, but seldom seen. This panel will overview progress on the development and deployment of digital thread across enterprises. What are the opportunities and challenges associated with actual deployment? Where do we find the information we need to get started?
When: October, 16 2018, 10:25 – 11:10, Room 1
Details and Contact: Brian Armstrong, Global Strategic Alliance Director – Siemens PLM: brian.armstrong@siemens.com
MindSphere and Orange Business Services presenting the Fleet Operations Joint-Use Case and Beyond
Meet MindSphere at Orange's booth and learn how to optimize industrial efficiency, reduce costs and creat new revenue streams with our joint use cases on MindSphere
Siemens and Orange Business Services will be presenting our joint-Use Case for Fleet Operations that supports to optimize process and order advices to increase customer satisfaction, avoid downtime and detect abnormal behavior based on Siemens MindSphere. Together we will be able to counsel our customers through the MindSphere system implementation and beyond, explaining how to:
connect a wide range of devices to monitor industrial processes such as pressure, temperature, flow, level, positioning, weighing etc;
transport data to MindSphere open IoT operating system with a Orange secure and global connectivity network (Cellular, LPWA…);
digitize products to increase customer satisfaction, generate new revenue streams;
profit from getting your data and simulation with Siemens's Digital Twin technology.
Details and Contact: Klaus Kronsbein, Partner Management – MindSphere:  klaus.kronsbein@siemens.com
Siemens MindSphere and Wipro
Wipro Testbed with MindSphere: Connected Worker Safety, Productivity and Operations
Wipro demonstrates its integrated Connected Worker solution on the MindSphere platform, showcasing how industrial IoT technologies can be employed to improve worker safety while facilitating safety compliance and enabling safe work operations. The solution employs smart wearables and infrastructure, cognitive learning abilities, and 24×7 edge-to-core-to-cloud connectivity with operations command centers and emergency response teams.  This is a great example of MindSphere in action.
Conference testbeds are experimentation platforms deployed and tested in an environment that resembles real world conditions. They demonstrate new technologies to create new products and services, show how new technologies can be usefully deployed, fuel R&D ideas and opportunities, and generate an appreciable and measurable impact on new and existing markets.
Details and Contact:   Mazhar Hussain, Global Strategic Alliance Manager – MindSphere: mazhar.hussain@siemens.com
Learn more about the event: IoT Solutions Congress in Barcelona 2018 website
This article first appeared on the Siemens Digital Industries Software blog at https://blogs.sw.siemens.com/mindsphere/mindsphere-iot-solutions-world-congress-in-barcelona-2018/