Aspern Smart City Research wins IDC's 2020 Smart Cities and Communities Europe and Central Asia Awards, made possible by the MindSphere City Graph
Powered by the MindSphere City Graph, Aspern Smart City Research (ASCR), a joint venture of the energy provider and network operator of Vienna and Siemens, won the IDC 2020 Smart Cities and Communities Europe and Central Asia Awards in the category resilient infrastructure. The award is the first of its kind and focuses on technology-enabled, groundbreaking projects, that deliver citizen-centric outcomes.
Improving forecasting with MindSphere
With the digital solution, provided by the MindSphere City Graph, ASCR is now able to improve forecasting of the charging demand of eCars and the understanding of their impact on the energy infrastructure in Aspern. The project, which has been successfully implemented by Siemens Advanta on site, will continue and it is planned to expand the PoC to integrate additional data such as buildings data and further eCar information.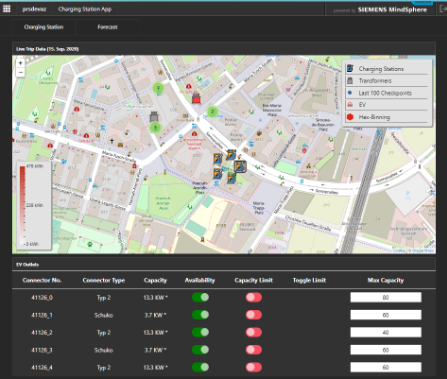 "With the MindSphere City Graph our partners Siemens Advanta and Microsoft supported us to integrate multiple data sources in an efficient way and we were able to jointly build digital twins of our city district in a very short time frame," says Roman Tobler, Manager at ASCR and Wiener Netze. "IT/OT integration skills were one key success factor for developing this IoT solution to generate value for Aspern Smart City Research and it shall support us to improve real-time transparency of our grid, not only to cope with the rising demand of eVehicles today, but to proactively address new business models in the near future."
Industrial IoT solutions
MindSphere® is the leading industrial IoT as a service solution that uses advanced analytics and AI to power IoT solutions from the edge to the cloud. The Siemens MindSphere City Graph offers a new way to optimize city operations. It creates a digital twin of urban spaces allowing cities to model, monitor, and control physical infrastructure. Through the integration of IoT data, legacy systems, and other data sources, stakeholders of a city gain insights and understand changes as they happen. MindSphere City Graph leverages Azure Digital Twins and provides the openness for solution providers to integrate and deliver sustainable value for a city while enabling open data for cities through an open standard approach.
Learn more about MindSphere
Check out what's new in MindSphere in our last post! Click here to read more.
This article first appeared on the Siemens Digital Industries Software blog at https://blogs.sw.siemens.com/mindsphere/mindsphere-city-graph-wins-again/