Hackathon "MindSphere and Friends"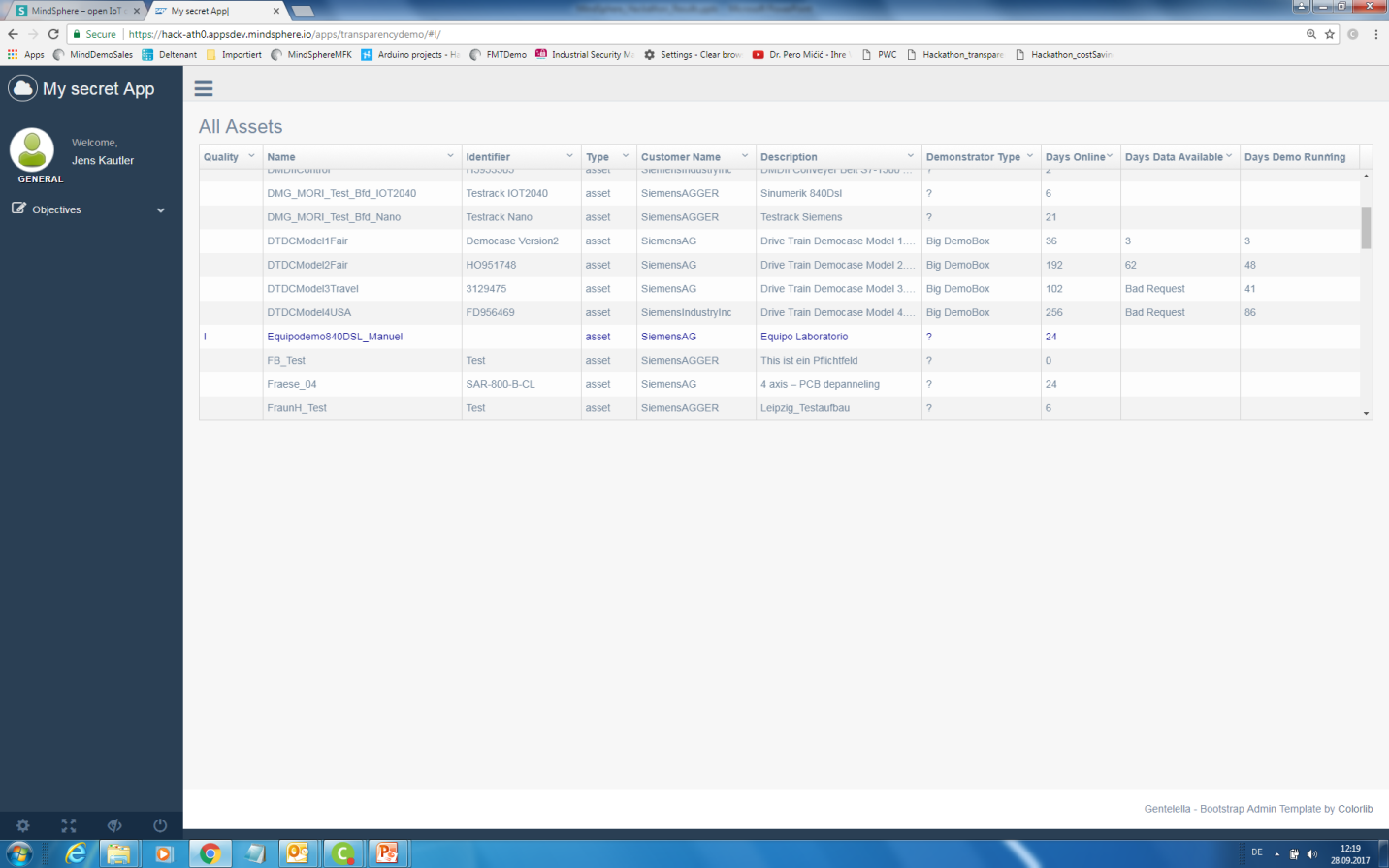 In September, a cross-functional team from various Siemens internal divisions gathered at the Global Learning Campus in Erlangen, Germany, to participate in the first "MindSphere and Friends" Hackathon. A Hackathon is an event, where people come together with one or multiple ideas and visions and experiment to find out whether this idea is technically feasible and whether there is a real value behind. In the MindSphere and Friends Hackathon, software developers and product experts came together to discuss and start hacking.
The goal of the Hackathon was given by one of the MindSphere Partner Solution Architects who supported the group. The task was to extract and analyze machine data from a whole fleet of connected demo assets using some of the available MindSphere APIs and learn what surplus can be generated in two particular ways: cost efficiency and asset transparency.
As most of the participants had little knowledge about MindSphere, the event started off with a session on how to use its APIs and some creative thinking on how to potentially use them in a reusable project/element. In the second stage, the group of hackers with all different backgrounds and experience formed two cross-functional teams to work on the two given projects simultaneously.
Hackathon Challenge: cost reduction
The first team picked up on the challenge of cost reduction. Recording and storing data always comes with a price, regardless whether the data is being used or not. In the approach to save money, the team created an automated list that shows whether a device is online or offline and monitors the recording frequency. A device that is offline but has a high recording frequency unnecessarily consumes more resources than required. In this case, it gets flagged with a bad rating on the list, which signals to the user that the frequency needs to be changed to spare costs.
Hackathon Challenge: improve transparency
The second team task was to improve the transparency. Their outcome was to create an overview of all devices, showing which ones are switched on, which mode they're on and how long they have been running for. They presented this data in an easy to use and understand display that is comprehensible for everybody and makes it easy to understand in which mode each individual asset is at any time.
The MindSphere solution
After 2 days of working and learning in fast short iterations (sprints) both groups presented a working prototype of their ideas and even added some new exciting features to it. The general feedback from the participants was great and that after very short time they all felt a lot more confident working with MindSphere.
Apart from the immediate cost savings by these new features the results will be used by the MindSphere Team as a showcase and will be developed further together with specialists from different divisions. The event was driven by the current run of Senior Software Architects (SSWA). Thanks to them and the MindSphere Team!
The Team
Expensive Asset Display
All Assets
This article first appeared on the Siemens Digital Industries Software blog at https://blogs.sw.siemens.com/mindsphere/hackathon-mindsphere-and-friends/