Article Roundup: An AV IC Design Flow, The 3D IC Market, Making a Factory "Smart", New Automotive IC Test Tech & Embedded Firmware Updates
Autonomous Vehicles: IC Design Flow Walk Through
SemiEngineering
Increased demand for computing in automotive platforms is part of the driving force behind the semiconductor industry's recent wave of growth. While the design flow for automotive ICs follows the same high-level steps as traditional IC applications, automotive applications place additional constraints on the chips being produced. Harsh operational conditions, lengthy lifetimes, and strict safety requirements make automotive chips particularly challenging. In this article, Andy MacLeod walks through an automotive IC design flow to examine these challenges.
Is 3D IC The Next Big Profit Driver?
EE Times

3D-IC technology may alter the standard business model in the integrated circuit industry as it provides performance improvements in smaller packages compared to SoCs. But, many companies remain hesitant to move into 3D-IC because the market has lacked robust design and verification tools, design rules, and process design kits. However, new technologies are emerging that help companies reduce risk and increase potential profit from 3D-IC designs, such as fan-out wafer-level packaging. This article examines the current state of the 3D-IC market, technical challenges, and the impact the technology can have on the industry at large.
How CIM and IoT Can Make Your Factory Smart
I-Connect 007
Making a factory "smart" requires integrating the disparate computer systems used in the manufacturing process. This task is complex, difficult, and costly, placing the benefits of smart manufacturing out of reach for many companies. This article describes a general infrastructure for smart factories to reduce the challenge, complexity, and cost of integrating the many systems used in electronics manufacturing, making the benefits attainable by more companies.
Mentor's Busy ITC and Major Test Product Updates
SemiWiki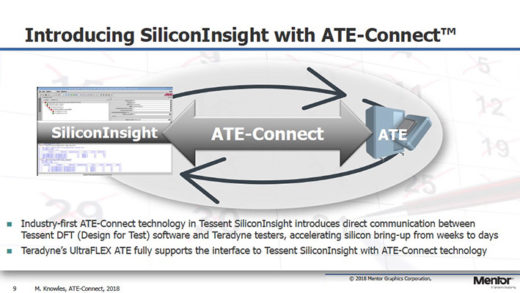 Automotive chips have jumped to bleeding-edge process nodes as ADAS, infotainment, and autonomy require higher data transfer. At the 2018 International Test Conference, Mentor announced a new set of test patterns to better handle failure modes in FinFET processes and 3D transistor structures, as well as improved connectivity between DFT software and testers to accelerate silicon bring-up. Together, these technologies will help ensure the reliability of the advanced chips required for new automotive applications.
Device Firmware Upgrade through USB
EDACafé
In the past, embedded system firmware was difficult to update because it was burned onto a programmable read-only memory and inserted into the device. Now, firmware updates can be applied over a network, wirelessly, or via USB, making the updates much easier to apply. Colin Walls examines USB's device firmware upgrade (DFU) protocol, a readily available and widely supported method of updating device firmware.
This article first appeared on the Siemens Digital Industries Software blog at https://blogs.sw.siemens.com/expertinsights/2018/11/08/article-roundup-an-av-ic-design-flow-the-3d-ic-market-making-a-factory-smart-new-automotive-ic-test-tech-embedded-firmware-updates/