Mentor Automotive at WCX17: The SAE World Congress Experience
SAE World Congress is now WCX17: SAE World Congress Experience. Join automotive and mobility industry experts April 4-6 in Detroit, Michigan for a full-sensory event experience. Mentor Automotive will be in attendance throughout the technical program and on the exhibit floor in booth 3209.
View the event-at-a-glance.
Mentor Automotive provides a leading portfolio of automotive design tools and software, built on deep expertise in systems engineering, to help customers solve the most complex design challenges facing the industry. Solutions reside in the areas of connectivity, autonomous drive, electrification, and vehicle architecture.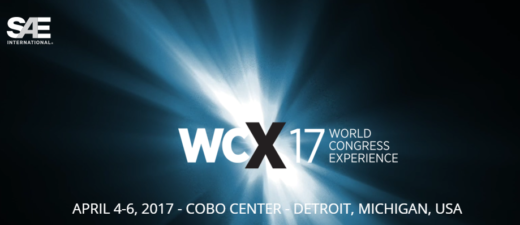 TECHNICAL SESSIONS
Achieving Bi-Directional Traceability for Increasingly Complex Devices
Tuesday, April 4 | 10:00am
Can Uncertified Microprocessors be used to Build Certified Systems?
Tuesday, April 4 | 1:30pm
Design by ECO: Can the Burden of Change Management be minimized? 
Wednesday, April 5 | 1:00pm
Systems Engineering: Extending Across Physical Implementation
Wednesday, April 5 | 1:30pm

Consolidating AUTOSAR with Complex Operating Systems (AUTOSAR on Linux)
Wednesday, April 5 | 3:30pm
The evolution in automotive qualified electronic components, including the birth of powerful multicore System-on-Chip (SoC) platforms has fundamentally changed the approach to designing automotive electronic systems today. This evolution is not only happening on the hardware side, but also on the software design side where there has been consolidation of multiple domains onto a single SoC. This type of consolidation allows shorter time-to-market with consumer-ready features to address immediate market demands. This paper explores the reasons for this trend and available architectures for achieving consolidation. AUTOSAR on Linux is one of those architectures and has been popular in Advanced Driver Assistance Systems (ADAS) and infotainment applications, allowing complex functions to smoothly integrate into the vehicle network.

Validation of an Organic Rankine Cycle Simulation Tool against European Stationary Cycle Test Modes
Wednesday, April 5 | 3:30pm
The development of experimental ORC systems is an extremely complex, time consuming and costly task. Running a range of experiments on a number of different component configurations may be prohibitively expensive and subject to equipment issues and failures. Yet ORC systems offer significant potential for automotive manufacturers to improve vehicle efficiency, reduce fuel consumption and vehicle emissions; the technology is particularly relevant for those involved in the design and/or manufacture of heavy duty trucks. This paper is focused on the validation of a computational ORC system simulation tool against a number of SAE published test results based on the European Stationary Cycle. Such studies on industry standard systems are essential in order to help promote confidence in a virtual prototype approach. The results demonstrate that the variation in temperature across all of the simulations was never greater than 1.7% and the difference in inlet pressures were never greater than 1.26%. Larger discrepancies in predicted output power are observed, but are demonstrated to be due to the experimental result being based on electrical power as opposed to shaft work. The results demonstrate that the system modelling approach used is a viable tool for ORC system design and offers the potential for a more efficient, reduced risk and cost effective design cycle.
 
Electronic Does Not Equal Smart: Service Documentation and Brand Quality
Thursday, April 6 | 11:00am
A vehicle's electrical system is one of the top sources of problems requiring service. For years now electronic means of service documentation have been replacing static documents as a way of speeding vehicle troubleshooting. The next step on this path of evolution is to turn this e-documentation into smart maintenance systems, capable of offering technicians true data insights and highly-efficient diagnostic procedures. This paper briefly summarizes the technologies underpinning the evolution in electrical system diagnosis and repair; which include schematic layout automation using prototypes and rule-based styling, instant language translation, 2D/3D view links with schematics, interactive diagnostic procedures, and dynamically-generated signal-tracing diagrams. These technologies empower after sales service teams with state-of-the-art capabilities; which not only reduce costs but also improve the quality of the brand in the eyes of its customers.
EXHIBIT BOOTH
Mentor Automotive experts will be standing by in booth 3209 with the latest demos and technical information.
Tuesday, April 4 | 9:00am-6:00pm
Wednesday, April 5 | 9:00am-6:00pm
Thursday, April 6 | 9:00am-4:00pm
This article first appeared on the Siemens Digital Industries Software blog at https://blogs.sw.siemens.com/expertinsights/2017/03/30/mentor-automotive-at-wcx17-the-sae-world-congress-experience/