The mPower toolsuite wins Elektronik Product of the Year for Software Tools!!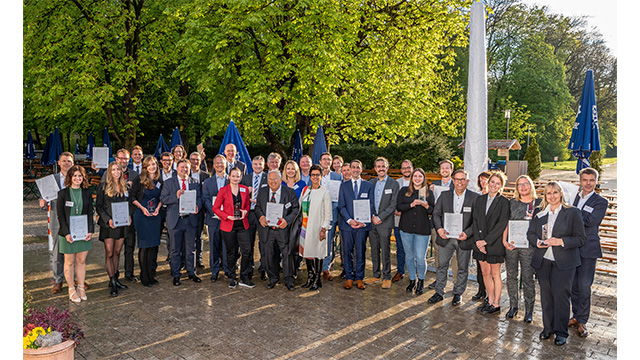 By Shelly Stalnaker
Every year, the editors of Elektronik in Germany compile a list of the most interesting and innovative electronics and semiconductor products introduced during the year. From that list, they select what they believe represent the top products, which in 2022 resulted in 109 product nominations in nine categories. At that point, they hand it over to their audience for the final vote. This year, more than 12,000 readers responded.
Once the voting is complete, the top three companies in each category are invited to the awards ceremony, where the final winners are announced. This year, after a two-year hiatus due to the Covid pandemic, the winners were honored in Munich at the "Wirtshaus am Bavariapark" on April 26. The overwhelming favorite out of 16 nominations in the Software Tools category was…the mPower toolsuite! Presenting the 1st place trophy and certificate for the mPower power integrity software to Thomas Heurung (right) from Siemens Digital Industries Software was Harry Schubert (left), electronics editor of Elektronik.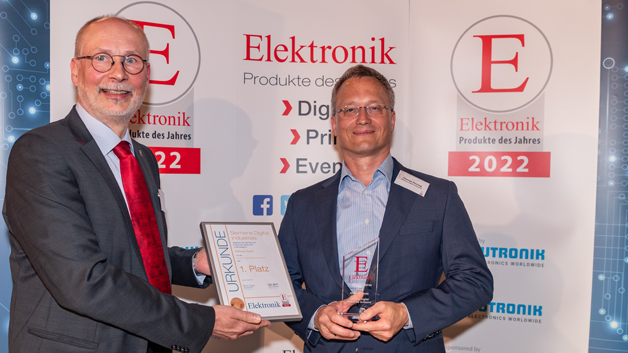 We'd like to extend our thanks both to the editors of Elektronik, as well as their readers, for the recognition of the differentiation the mPower toolsuite brings to the EDA software domain, and its ability to transform the power integrity analysis process.
While we're understandably proud of the innovations we achieved in bringing these tools to the EDA user community, it's equally rewarding to know that the end users of EDA tools understand and appreciate the value the mPower toolsuite adds to the IC design and verification process. The mPower power integrity software knows no size limits on IC design—whether you're using it for analog, digital, or mixed-signal ICs. Designers can now analyze large SoCs with billions of transistors for power, electromigration, and current-related differential voltages of the track resistors faster and more thoroughly than ever before. IC developers can use mPower tools to determine if their IC design meets design targets in terms of current consumption, enabling their chips to achieve the projected battery life.
For more information about the mPower toolsuite and how it can help your company, visit the mPower product page, or send us an email!
This article first appeared on the Siemens Digital Industries Software blog at https://blogs.sw.siemens.com/calibre/2022/05/12/the-mpower-toolsuite-wins-elektronik-product-of-the-year-for-software-tools/