Siemens partners with ASME to empower the next generation of digital talent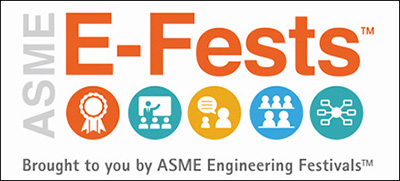 E-Fests (Engineering Festivals) are a series of three-day, two-night events that enable engineering students to expand their knowledge, test and showcase new skills and become immersed in innovation. Focused on digital product design, advanced manufacturing and robotics technology, E-Fests was developed to inspire and prepare the next generation of engineers and technology professionals. Siemens is an exclusive sponsor of the Innovative Additive Manufacturing 3D Challenge (IAM3D) – one of the E-fest Competitions – and is providing its Solid Edge® software for computer-aided design (CAD) to students at no cost for use within all ASME competitions.
Siemens is sponsoring the IAM3D competition, where students will use additive manufacturing to create new products or re-engineer existing products in order to minimize energy consumption and/or improve energy efficiency.
The E-Fest events kicked off in India at the LNM Institute of Information Technology on March 3-5, with two additional events at the University of Nevada, Las Vegas on March 17-19 that already happened, and Tennessee Tech University on April 21-23.
Please go here to see the full press release. More can be found in our Solid Edge blog.
For registration information, please visit:
E-Fest Asia Pacific: http://efestasiapacific.com/register
E-Fest West: https://efests.asme.org/west/
E-Fest East: https://efests.asme.org/east/
This article first appeared on the Siemens Digital Industries Software blog at https://blogs.sw.siemens.com/academic/siemens-partners-with-asme-to-empower-the-next-generation-of-digital-talent/