See what's in the news including University of Bath Team uses Solid Edge to design and build a drone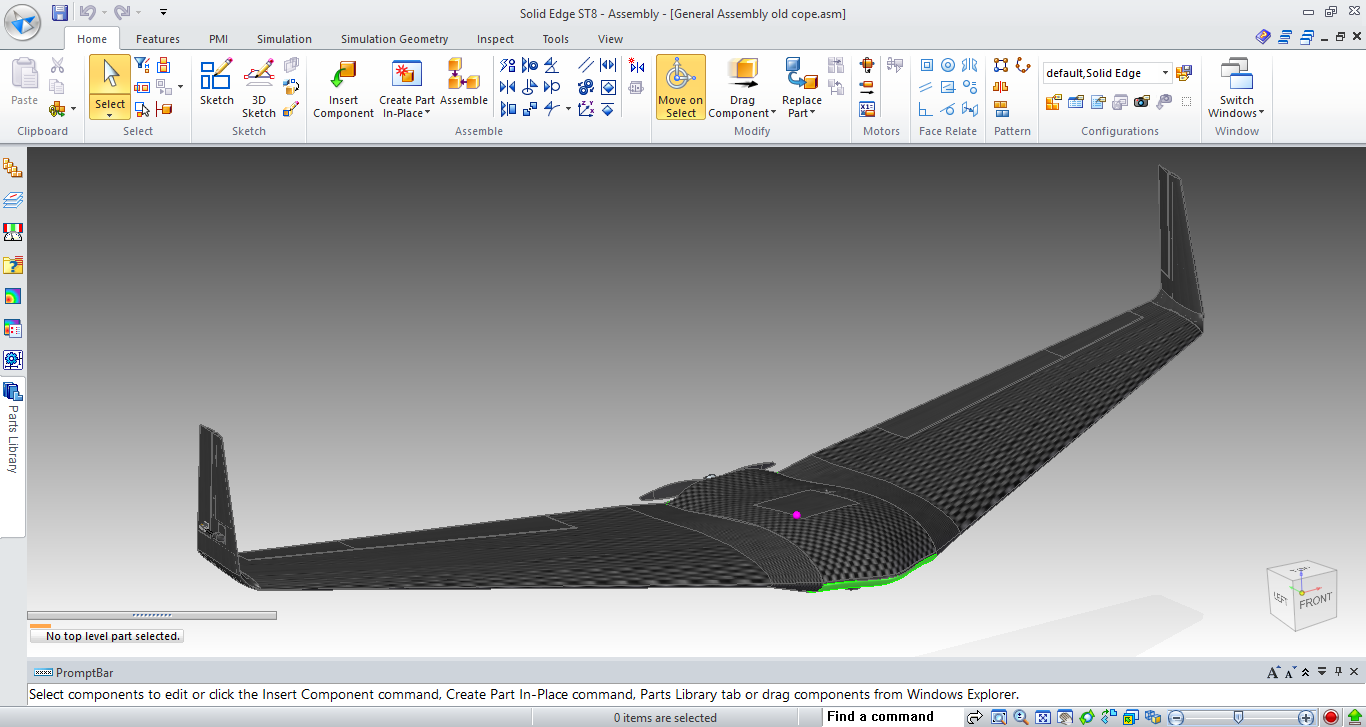 Be sure to read all the way to the bottom of this article so you don't miss any of our news!
The team from the University of Bath contacted us to let us know that they have been using Solid Edge to design their drone for the UAS (Unmanned Aircraft Systems) Challenge sponsored by the IMechE.
The aim of this competition is to challenge teams of undergraduates to undertake a full design and build cycle of a UAS with specific mission objectives from September 2015 – before competing in a final 'fly-off' and judging on 6 and 7 July 2016.
I caught up with Swapnil Patra (who studies aerospace engineering at the University of Bath) from Team Bath Drones (TBD) who told me all about their project.
TBD has set themselves a target to design a fully autonomous UAV which can track and detect targets and deliver humanitarian aid where it may not be accessible with conventional methods. Swapnil was personally attracted to the competition as could see it would be a good way to apply all the knowledge he has gained since being at university. "Unmanned aerial vehicles are also a rapidly growing market in the Aerospace industry and there is a lot of advancement in technology occurring for it right now. I really wanted to learn more about this and being part of Team Bath Drones has taught me a lot!"
TBD tried to push the technological design of the aircraft and tried to use innovative and new concepts. Getting the technical concepts to actually work in real life has been a challenge. They have tried to fix this by running simulations and several different kinds to physical tests. The univesity currently don't use any PLM software, this is where our product data management tool Teamcenter could really come in handy.
The team have mainly used Solid Edge to design models of all the parts of the aircraft. They are going to use surface data in their model to carry out the majority of the tooling required to manufacture the aircraft. Patra mentions that 'Solid Edge is a fairly light package but has all the necessary tools. There is also a lot of online support available to learn more about the software, perfect for students!'You can access the online support that Patra mentions at our Academic Resource Center.
If you would like to learn more about TBD you can check out their website and Facebook page.
Good Luck to the whole TBD crew and we look forward to an update in July!
In other news from around the world, you can learn more about the latest official PACE Partner University announement which took place at Hunan University in China, also whilst we are talking all things PACE you can learn about a project addressed at 'Distracted Driving' undertaken by 5 teams of students at Purdue University as part of a PACE competition.
Also in China read about how they are focussing heavily on future engineering and manufacturing talent.
The EcoCAR 3 Winter Workshop was held in Austin, Texas. 16 Noth American university teams are challenged to redseign a Chevrolet Camaro to reduce its environmental impact. This workshop was a weekend of hands on training and presentations to prepare the students for the Year Two final this May.
Find out about 3 students from Silverstone UTC who are looking to achieve success in the 2016 Greenpower competition.
Mean while in the UK there has been lots of activity Siemens PLM also particpated in the Cambridge Science Festival for the first time this year. Colleagues from our Cambridge office presented a very well recieved speech on Digital Twins. This was a good way of encouraging childen to participate in STEM subjects.
Siemens PLM Software participated in Develop 3D Live a conferenceand exhibition celebrating design, engineering and manufacturing technology and how it brings world-leading products to market faster.
One of our Academic Partners in Finland Seinäjoki University was named Customer of the Year for digital factory (in Finnish)
Promoting STEM is also a key initiative for Siemens PLM Software and our very own Jerry Sarfati features in this STEM outreach article in Diversity in Action magazine. Also in celebration of International Woman's Day read about Monica Lingard and why she chose a career in STEM,
We've also had some local press releases since our last newsletter:
Russian Channel Partner Borlas Consulting Group implements Teamcenter & NX at the National University of Science & Technology MISiS (in Russian)
Borlas Consulting Group implements NX for the Marine Enginnering College 'Komsomolsk-on-Amur Marine Engineering College' (in Russian)
Valencia College (USA) Recieves in-Kind Software Grant from Siemens PLM Software
Chester Country Technical College High School recives Solid Edge software grant worth $6.3 million
This article first appeared on the Siemens Digital Industries Software blog at https://blogs.sw.siemens.com/academic/see-whats-in-the-news-including-university-of-bath-team-uses-solid-edge-to-design-and-build-a-drone/